PROMOTING
ENVIRONMENTAL EDUCATION
IN SOUTH AUSTRALIA
Environmental education seeks to develop an understanding of the relationships between the elements of the local environment, positive attitudes towards it and skills which will enable people to actively engage in promoting its wellbeing
AAEE – SA Chapter
---
The Australian Association for Environmental Education Inc – SA Chapter (AAEE-SA Chapter):
promotes Education for Sustainability and the UNESCO Sustainable Development Goals
brings together educators and students from schools, environmental managers and educators in non-government and government organisations, community and/or conservation groups to successfully implement Education for Sustainability and Environmental Education.
educates and enables people to understand their environment, appreciate environmental values, and live sustainably
endeavours to develop skills and knowledge to actively contribute to the wellbeing of local, regional and global environments;
seeks to foster education for a sustainable future by developing peoples' understandings of the interrelationships between the elements of their environments and positive attitudes towards them;
works with local/state/national governments and their agencies, business, industry, schools, universities and further education centres; and
develops and shares a variety of resources and materials for use in Education for Sustainability and Environmental Education.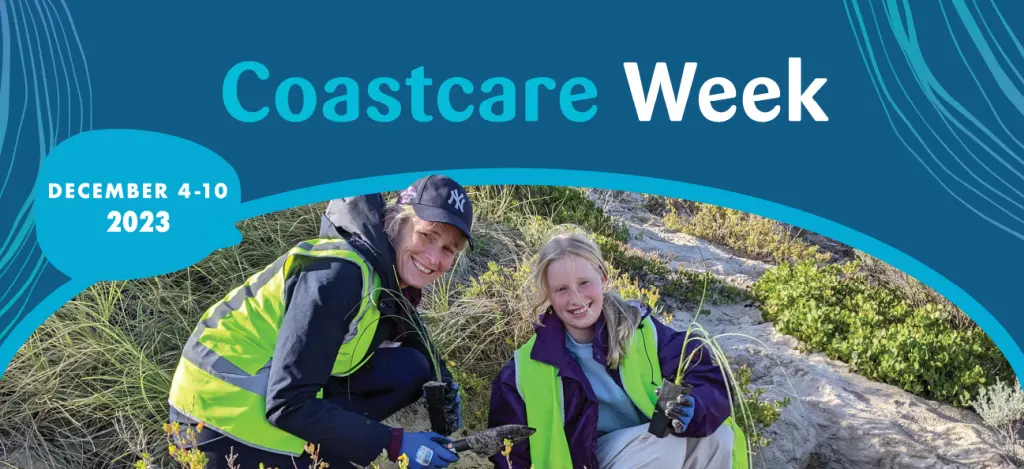 Coastcare Week is an annual campaign celebrated during the first week of December that acknowledges the Australians who are actively restoring, enhancing and protecting the coastline, waterways, habitat and biodiversity in their community.
7 Coastcare tips you can do all year round.
At the beach, keep on the walking tracks. This protects the vegetation that provides habitat for local native birds and other animals and prevents erosion.
Woof woof! Ensure your dogs are kept on a lead in areas where dune vegetation is vulnerable. Landcare and Coastcare groups work on these sites to enhance the habitat for native animals to
protect them.
Take a bag with you to the beach to collect rubbish on your next walk.
Every piece of plastic removed from the marine environment can save an animal's life and reduce the amount of microplastic created. Pick up rubbish and recycle.
Take the slow lane, walk instead of driving on beaches (4WD on beaches can rip up plants, destroy sea bird nests and eggs, destroy the sediment profile and more).
Use reef safe sunblock to protect marine life from harmful chemicals.
Volunteer with your local group and support their community events or donate to help them buy materials for their activities.
---
SA Chapter Programs

Bringing Back the Butterflies
BBB was created to mobilise people to help revegetate the 'burbs for local butterflies. It will spark learning and new relationships through education about the environment, biodiversity and sustainability.
Education for Sustainability (EfS)
and Climate Action Campaign
The AAEE Education for Sustainability (EfS) and Climate Action Campaign is mobilising the Australian community to support education and training policy reform, so that we can all
participate in the transition to a safe and sustainable presence on our home, the Earth.
Upcoming Events
<!=========Events list Template 2.3.3=========>
Soil and water, a source of life Our planet's survival depends on the precious link between soil and water. Over 95 percent of our food originates from these two fundamental […]
Find out more »
Take a guided tour through the Oaklands Wetland and learn about the important role it plays in our community About this event Did you know up this 'water factory' can […]
Find out more »