PROMOTING
ENVIRONMENTAL EDUCATION
IN SOUTH AUSTRALIA
Environmental education seeks to develop an understanding of the relationships between the elements of the local environment, positive attitudes towards it and skills which will enable people to actively engage in promoting its wellbeing
AAEE – SA Chapter
---
The Australian Association for Environmental Education Inc – SA Chapter (AAEE-SA Chapter):
promotes Education for Sustainability and the UNESCO Sustainable Development Goals
brings together educators and students from schools, environmental managers and educators in non-government and government organisations, community and/or conservation groups to successfully implement Education for Sustainability and Environmental Education.
educates and enables people to understand their environment, appreciate environmental values, and live sustainably
endeavours to develop skills and knowledge to actively contribute to the wellbeing of local, regional and global environments;
seeks to foster education for a sustainable future by developing peoples' understandings of the interrelationships between the elements of their environments and positive attitudes towards them;
works with local/state/national governments and their agencies, business, industry, schools, universities and further education centres; and
develops and shares a variety of resources and materials for use in Education for Sustainability and Environmental Education.
Cultural Awareness Training
at Living Kaurna Cultural Centre
Develop or refresh your cultural competency with this First Nations-run immersive training at the Living Kaurna Cultural Centre, Marion, and enrich your teaching practice.
Southern Cultural Immersion's cultural engagement experience utilises participant investment and cultural role play to develop empathetic understanding of South Australia's post-invasion history from the perspective of First Nations people.
Thanks to support from Credit Union SA, we will organise for a mini-bus pick up and drop off from several locations on the day.
Saturday, 22nd October.
Registration 9:45am, start at 10am. Finish at 2pm. BYO lunch.
Location:
Living Kaurna Cultural Centre, Warriparinga Drive Bedford Park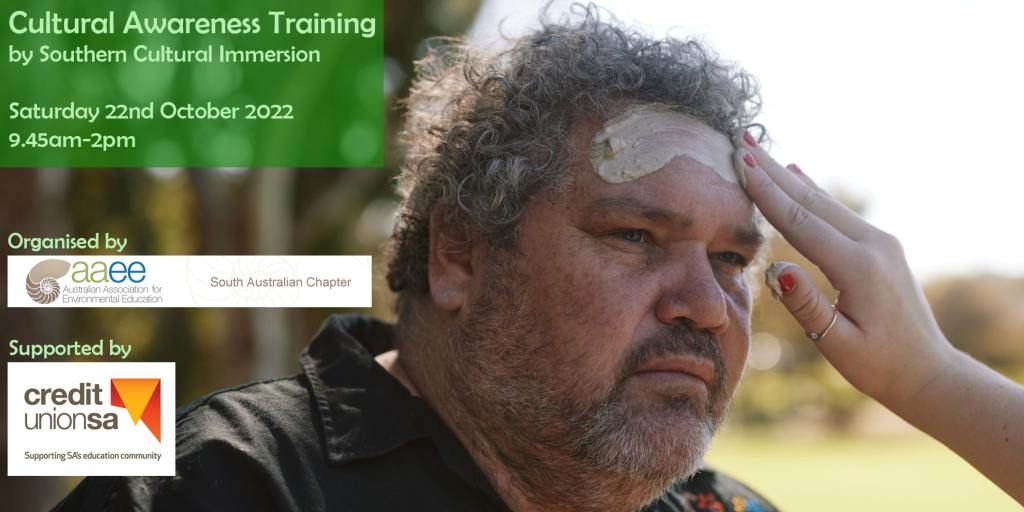 AAEE SA's AUSMAP training day
AAEE SA is partnering with AUSMAP the Australian Microplastic Assessment Project to offer an AUSMAP training day!
This day provides you with accreditation to conduct AUSMAPs rigorous data collection and is ideal for secondary teachers and keen community members able to monitor an area four times a year. AUSMAP was awarded a Eureka Prize for Citizen Science innovation in 2021 and AAEE SA is pleased to offer this training with Dr Michelle Blewitt, AUSMAP director. AAEE members and non members can attend. Become an AAEE member (or gift a friend /colleague) at https://www.aaee.org.au/get-involved/become-a-member/
Monday, 9th January starts at 9:00am  and finishes at 4:30pm
Location: Marine Discovery Centre
333 Military Road Henley Beach, SA 5022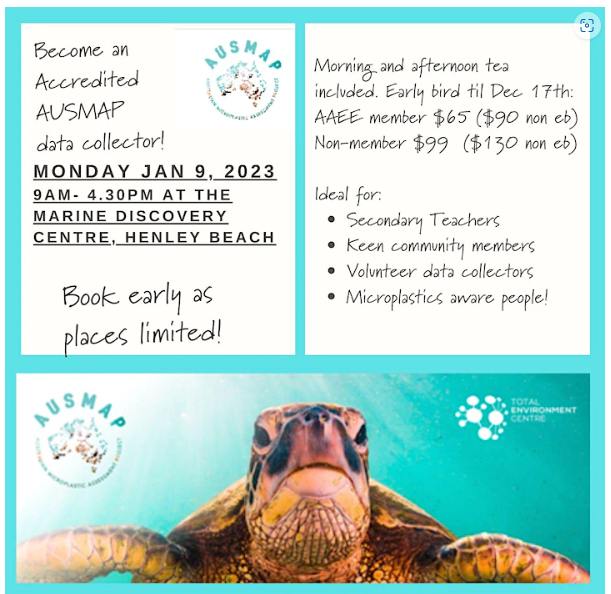 ---
SA Chapter Programs

Bringing Back the Butterflies
BBB was created to mobilise people to help revegetate the 'burbs for local butterflies. It will spark learning and new relationships through education about the environment, biodiversity and sustainability.
Education for Sustainability (EfS)
and Climate Action Campaign
The AAEE Education for Sustainability (EfS) and Climate Action Campaign is mobilising the Australian community to support education and training policy reform, so that we can all
participate in the transition to a safe and sustainable presence on our home, the Earth.
Upcoming Events
<!=========Events list Template 2.2.4=========>
Help map Wombats in your local area WomSAT is a new resource for communities to record sightings of wombats across the country. Australia's unique wombats are in crisis - Their numbers are […]
Find out more »
AAEE-SA Member Christmas celebration The event on Monday, 5th December begins at 6:00pm and will conclude at 8:00pm. Location: Botanic Park, Adelaide More details and registration coming soon
Find out more »
AAEE SA is partnering with AUSMAP the Australian Microplastic Assessment Project to offer an AUSMAP training day! About this event This day provides you with accreditation to conduct AUSMAPs rigorous […]
Find out more »